Guenther, Christian W. and Rinderle, Stefanie and Reichert, Manfred and van der Aalst, Wil M.P. (2006) Change Mining in Adaptive Process Management Systems. In: Proc. 14th Int'l Conf. on Cooperative Information Systems (Coopls'06), October 2006, Montpellier, France.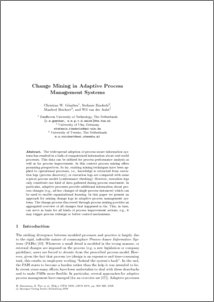 Preview
PDF

- Requires a PDF viewer such as GSview, Xpdf or Adobe Acrobat Reader
Download (755kB)
Abstract
The wide-spread adoption of process-aware information systems has resulted in a bulk of computerized information about real-world processes. This data can be utilized for process performance analysis as well as for process improvement. In this context process mining offers promising perspectives. So far, existing mining techniques have been applied to operational processes, i.e., knowledge is extracted from execution logs (process discovery), or execution logs are compared with some a-priori process model (conformance checking). However, execution logs only constitute one kind of data gathered during process nactment. In particular, adaptive processes provide additional information about process changes (e.g., ad-hoc changes of single process instances) which can be used to enable organizational learning. In this paper we present an
approach for mining change logs in adaptive process management systems. The change process discovered through process mining provides an aggregated overview of all changes that happened so far. This, in turn, can serve as basis for all kinds of process improvement actions, e.g., it
may trigger process redesign or better control mechanisms.
Actions (login required)