Eckert, Roland and Mansel, Wolfgang and Specht, Günther (2005) STEP AP233 + Standard PDM = Systems Engineering PDM? In: Proc. 11th Int'l Conf. on Concurrent Enterprising (ICE'05), Munich, Germany.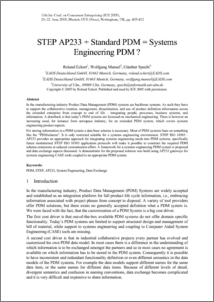 Preview
PDF

- Requires a PDF viewer such as GSview, Xpdf or Adobe Acrobat Reader
Download (496kB)
Abstract
In the manufacturing industry Product Data Management (PDM) systems are backbone systems. As such they have to support the collaborative creation, management, dissemination, and use of product definition information across the extended enterprise from concept to end of life – integrating people, processes, business systems, and information. A drawback is that today's PDM systems are focussed on mechanical engineering. There is however an increasing need, for instance from aerospace industry, for an extended PDM system, which covers systems engineering product aspects.
For storing information in a PDM system a data base schema is necessary. Most of PDM systems base on something like the "PDMschema". It is only restricted suitable for a systems engineering environment. STEP ISO 10303 - AP233 provides an appropriate approach for integrating systems engineering needs into PDM systems, specifically future modularised STEP ISO 10303 application protocols will make it possible to construct the required PDM schema extensions at reduced customisation effort. A framework for a systems engineering PDM system is proposed and data exchange aspects discussed. A demonstrator for the proposed solution was build using AP233 gateways for systems engineering CASE tools coupled to an appropriate PDM system.
Actions (login required)