Lauer, Markus and Rinderle, Stefanie and Reichert, Manfred (2004) Repräsentation von Schema- und Instanzobjekten in adaptiven Prozess-Management-Systemen. In: Proc. Workshop Geschäftsprozessorientierte Architekturen (Informatik'04), Germany.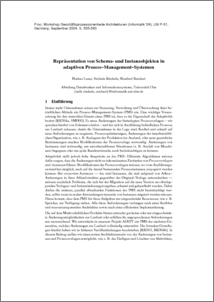 Preview
PDF

- Requires a PDF viewer such as GSview, Xpdf or Adobe Acrobat Reader
Download (116kB)
Abstract
Immer mehr Unternehmen setzen zur Steuerung, Verwaltung und Überwachung ihrer betrieblichen Abläufe ein Prozess-Management-System (PMS) ein. Eine wichtige Voraussetzung für den sinnvollen Einsatz eines PMS ist, dass es die Eigenschaft der Adaptivität besitzt [RRD04a, SMO00]: Es muss Änderungen der hinterlegten Prozessvorlagen - wir
sprechen hierbei von Schemaevolution - und der sich in Ausführung befindlichen Prozesse zur Laufzeit zulassen, damit die Unternehmen in der Lage sind, flexibel und schnell auf neue Anforderungen zu reagieren. Prozessoptimierungen, Änderungen der innerbetrieblichen Organisation, wie z. B. Auslagern der Produktion ins Ausland, oder neue gesetzliche
Bestimmungen machen Modifikationen der Prozessvorlage notwendig. Änderungen von Instanzen sind notwendig, um unvorhersehbaren Situationen (z. B. Ausfall von Maschinen)
begegnen oder um späte Kundenwünsche noch berücksichtigen zu können.
Actions (login required)