Kalb, Markus and Schneider, Kerstin and Specht, Günther (2003) T-XPath: Ein zeitliches Modell für XML-Datenbanken. In: Proc. Datenbanksysteme in Büro, Technik und Wissenschaft (BTW'03), Leipzig, Germany.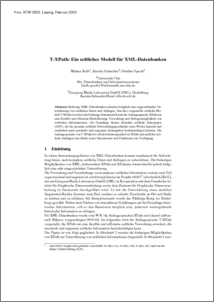 Preview
PDF

- Requires a PDF viewer such as GSview, Xpdf or Adobe Acrobat Reader
Download (60kB)
Abstract
Bisherige XML-Datenbanken erlauben lediglich eine eingeschränkte Unterstützung von zeitlichen Daten und Anfragen. Das hier vorgestellte zeitliche Modell T-XPath erweitert das bisherige Datenmodell und die Anfragesprache XPath um eine flexible und effiziente Modellierung, Verwaltung und Abfragemöglichkeit von zeitlichen Informationen. Als Grundlage dienen abstrakte zeitliche Datentypen (ADT), die die gesamte zeitliche Entwicklungsgeschichte eines Wertes kapseln und zusätzlich auch unscharfe und ungenaue Zeitangaben berücksichtigen können. Die Anfragesprache von T-XPath ist voll abwärtskompatibel zu XPath und stellt für zeitliche Anfragen eine Reihe neuer Operationen und Funktionen zur Verfügung.
Actions (login required)