Mutschler, Bela and Reichert, Manfred and Bumiller, Johannes (2008) Unleashing the Effectiveness of Process-oriented Information Systems: Problem Analysis, Critical Success Factors and Implications. IEEE Transactions on Systems, Man, and Cybernetics (Part C), 38 (3). pp. 280-291.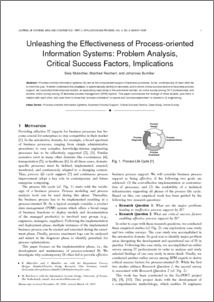 Preview
PDF

- Requires a PDF viewer such as GSview, Xpdf or Adobe Acrobat Reader
Download (1MB)
Abstract
Process-oriented information systems (IS) aim at the computerized support of business processes. So far, contemporary IS have often fail to meet this goal. To better understand this drawback, to systematically identify its rationales, and to derive critical success factors for business process support, we conducted three empirical studies: an exploratory case study in the automotive domain, an online survey among 79 IT professionals, and another online survey among 70 business process management (BPM) experts. This paper summarizes the findings of these studies, puts them in relation with each other, and uses them to show that "process-orientation" is scarce and "process-awareness" is needed in IS engineering.
Actions (login required)