Mutschler, Bela and Reichert, Manfred (2007) Exploring the Dynamic Costs of Process-aware Information Systems through Simulation. In: Proceedings Workshops and Doctoral Consortium at CAiSE '07 (Vol. 1) - 12th Int'l Workshop on Exploring Modelling Methods for Information Systems Analysis and Design (EMMSAD'07), June 2007, Trondheim, Norway.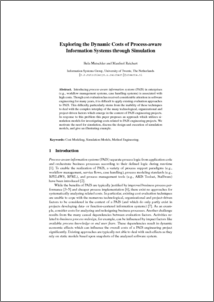 Preview
PDF

- Requires a PDF viewer such as GSview, Xpdf or Adobe Acrobat Reader
Download (408kB)
Abstract
Introducing process-aware information systems (PAIS) in enterprises (e.g., workflow management systems, case handling systems) is associated with high costs. Though cost evaluation has received considerable attention in software engineering for many years, it is difficult to apply existing evaluation approaches to PAIS. This difficulty particularly stems from the inability of these techniques to deal with the complex interplay of the many technological, organizational and project-driven factors which emerge in the context of PAIS engineering projects. In response to this problem this paper proposes an approach which utilizes simulation models for investigating costs related to PAIS engineering projects. We motivate the need for simulation, discuss the design and execution of simulation models, and give an illustrating example.
Actions (login required)