Boll, Susanne and Klas, Wolfgang and Westermann, Utz (1999) Exploiting ORDBMS Technology to Implement the ZYX Data Model for Multimedia Documents and Presentations. In: Proc. Datenbanksysteme in Büro, Technik und Wissenschaft (BTW'99), Freiburg, Germany.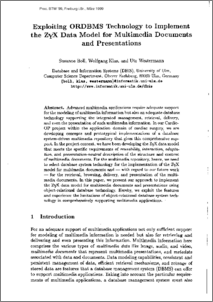 Preview
PDF

- Requires a PDF viewer such as GSview, Xpdf or Adobe Acrobat Reader
Download (1MB)
Abstract
Advanced multimedia applications require adequate support for the modeling of multimedia information but also an adequate database technology supporting the integrated management, retrieval, delivery, and even the presentation of such mutimedia information. In our Cardio-OP project within the application domain of cardiac surgery, we are devoloping concepts and prototypical implementations of a database system-driven multimedia repository that gives this comprehensive support. In the project context, we have been devoloping the ZYX data model that meets the specific requirements of reusability, interaction, adaptation and presentation-neutral description of the structure and content of multimedia documents. For the multimedia repository, hence, we need to select database system technology for the implementation of the ZYX model for multimedia documents and - with regard to our future work - for the retrieval, browsing, delivery, and presentation of the multi-media documents. In this paper, we present our approach to implement the ZYX data model for multimedia documents and presentations using object-relational database technology. Hereby, we exploit the features and experience the limitations of object-relational database system technology in comprehensively supporting multimedia applications.
Actions (login required)