Mutschler, Bela and Bumiller, Johannes and Reichert, Manfred (2006) An Evaluation Approach for Analyzing Workflow Management Systems from a Value-based Perspective. In: Proc. 10th IEEE Int'l. Conf. on Enterprise Computing (EDOC '06), October 2006, Hong Kong, China.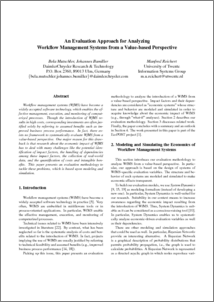 Preview
PDF

- Requires a PDF viewer such as GSview, Xpdf or Adobe Acrobat Reader
Download (349kB)
Abstract
Workflow management systems (WfMS) have become a widely accepted software technology, which enables the effective management, execution, and monitoring of computerized processes. Though the introduction of WfMS results in high costs, corresponding investments are often justified solely by referring to assumed benefits such as improved business process performance. In fact, there exists no framework to systematically evaluate WfMS from a value-based perspective. One major reason for this drawback is that research about the economic impact of WfMS has to deal with many challenges like the potential identification of impact factors, the handling of dependencies among these impact factors, the collection of real-world data, and the quantification of costs and intangible benefits. This paper presents an evaluation methodology to tackle these problems, which is based upon modeling and simulation.
Actions (login required)