Lau, Jean Michel and Iochpe, Cirano and Thom, Lucineia and Reichert, Manfred (2009) Discovery and Analysis of Activity Pattern Cooccurrences in Business Process Models. In: Proc. 11th Int'l Conf. on Enterprise Information Systems (ICEIS'09), Volumne on Information Systems Analysis and Specification, Milan, Italy.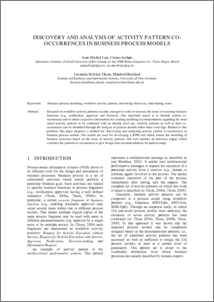 Preview
PDF

- Requires a PDF viewer such as GSview, Xpdf or Adobe Acrobat Reader
Download (129kB)
Abstract
Research on workflow activity patterns recently emerged in order to increase the reuse of recurring business
functions (e.g., notification, approval, and decision). One important aspect is to identify pattern cooccurrences
and to utilize respective information for creating modeling recommendations regarding the most suited activity patterns to be combined with an already used one. Activity patterns as well as their cooccurrences can be identified through the analysis of process models rather than event logs. Related to this problem, this paper proposes a method for discovering and analyzing activity pattern co-occurrences in business process models. Our results are used for developing a BPM tool which fosters the modeling of business processes based on the reuse of activity patterns. Our tool includes an inference engine whichconsiders the patterns co-occurrences to give design time recommendations for pattern usage.
Actions (login required)