Künzle, Vera (2011) Towards a Framework for Object-aware Process Management. In: 1st Int'l Symposium on Data-driven Process Discovery and Analysis (SIMPDA'11), PhD Seminar, June 29 - July 1, 2011, Campione d'Italia, Italy.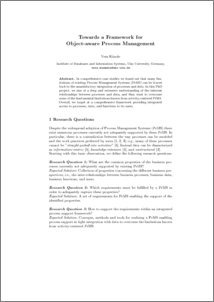 Preview
PDF

- Requires a PDF viewer such as GSview, Xpdf or Adobe Acrobat Reader
Download (264kB)
Abstract
In comprehensive case studies we found out that many limitations of existing Process Management Systems (PrMS) can be traced back to the unsatisfactory integration of processes and data. In this PhD project, we aim at a deep and extensive understanding of the inherent relationships between processes and data, and thus want to overcome some of the fundamental limitations known from activity-centered PrMS. Overall, we target at a comprehensive framework providing integrated
access to processes, data, and functions to its users.
Actions (login required)