Göser, Kevin and Jurisch, Martin and Acker, Hilmar and Kreher, Ulrich and Lauer, Markus and Rinderle-Ma, Stefanie and Reichert, Manfred and Dadam, Peter (2007) Next-generation Process Management with ADEPT2. In: BPM'07 Demo Proceedings, September 2007, Brisbane, Australia.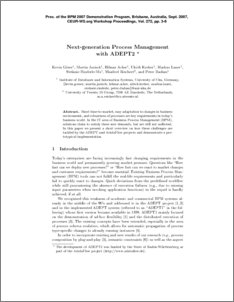 Preview
PDF

- Requires a PDF viewer such as GSview, Xpdf or Adobe Acrobat Reader
Download (272kB)
Abstract
Short time-to-market, easy adaptation to changes in business
environment, and robustness of processes are key requirements in today's business world. In the IT area of Business Process Management (BPM), solutions claim to satisfy these new demands, but are still not sufficient. In this paper we present a short overview on how these challenges are tackled by the ADEPT and AristaFlow projects and demonstrate a prototypical implementation.
Actions (login required)