Weithöner, Timo and Liebig, Thorsten and Specht, Günther (2004) Efficient Processing of Huge Ontologies in Logic and Relational Databases. In: Proc. On the Move to Meaningful Internet Systems 2004 (OTM'04, Zypern.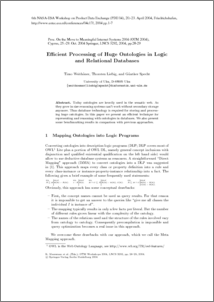 Preview
PDF

- Requires a PDF viewer such as GSview, Xpdf or Adobe Acrobat Reader
Download (78kB)
Abstract
Today ontologies are heavily used in the sematic web. As
they grow in size reasoning systems can't work without secondary storage anymore. Thus database technology is required for storing and processing huge ontologies. In this paper we present an efficient technique for representing and reasoning with ontologies in databases. We also present some benchmarking results in comparison with previous approaches.
Actions (login required)