Hensinger, Clemens and Reichert, Manfred and Bauer, Thomas and Strzeletz, Thomas and Dadam, Peter (2000) ADEPTworkflow - Advanced Workflow Technology for the Efficient Support of Adaptive, Enterprise-wide Processes. In: Proc. Software Demonstration Track, Held in conjunction with EDBT '00 conference, Konstanz, Germany.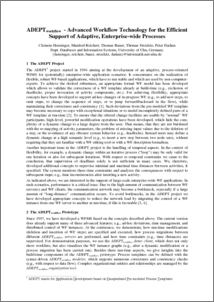 Preview
PDF

- Requires a PDF viewer such as GSview, Xpdf or Adobe Acrobat Reader
Download (30kB)
Abstract
This demo paper gives a short summary of the ADEPT1 prototype and its basic architecture. The software demonstration was given at the 7th Int'l Conference on Extending Database Technology (EDBT 2000).
Actions (login required)