Bodenstaff, Lianne and Wombacher, Andreas and Wieringa, Roel and Reichert, Manfred (2008) An Approach for Maintaining Models of an E-Commerce Collaboration. In: IEEE Joint Conference on E-Commerce Technology (CEC'08) and Enterprise Computing, E-Commerce and E-Services (EEE '08), July 2008, Crystal City, Washington, D.C., USA.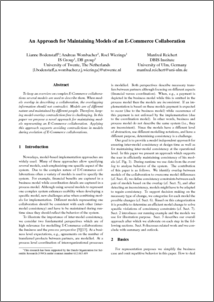 Preview
PDF

- Requires a PDF viewer such as GSview, Xpdf or Adobe Acrobat Reader
Download (263kB)
Abstract
To keep an overview on complex E-Commerce collaborations
several models are used to describe them. When models
overlap in describing a collaboration, the overlapping
information should not contradict. Models are of dierent
nature and maintained by dierent people. Therefore, keeping
model-overlap contradiction-free is challenging. In this
paper we propose a novel approach for maintaining models
representing an E-Commerce collaboration. Applying
this approach supports avoiding contradictions in models
during evolution of E-Commerce collaborations.
Actions (login required)