Bobrik, Ralph and Bauer, Thomas (2007) Towards Configurable Process Visualizations with Proviado. In: Proc. WETICE IEEE-Workshop on Agile Cooperative Process-Aware Informations Systems (ProGility '07), Paris, France.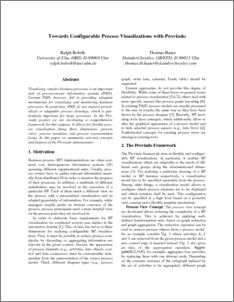 Preview
PDF

- Requires a PDF viewer such as GSview, Xpdf or Adobe Acrobat Reader
Download (216kB)
Abstract
Visualizing complex business processes is an important
task of process-aware information systems (PAIS). Current PAIS, however, fail in providing adequate mechanisms for visualizing and monitoring business processes. In particular, PAIS do not support personalized or adaptable process drawings, which is particularly important for large processes. In the Proviado project we are developing a comprehensive framework for this purpose. It allows for flexible process visualization along three dimensions: process views, process notations, and process representation
forms. In this paper we summarize selected concepts and features of the Proviado demonstrator.
Actions (login required)