Tresch, Markus and Scholl, Marc (1994) A Classification of Multi-Database Languages. Technical Report. Universität Ulm.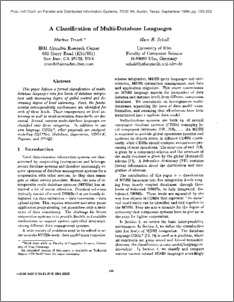 Preview
PDF

- Requires a PDF viewer such as GSview, Xpdf or Adobe Acrobat Reader
Download (799kB)
Abstract
This paper defines a formal Classification of multi-database languages into five levels of database integration with increasing degree of global control and de-creasing degree of local autonomy. First, the fundamental interoperability mechanisms are identified for each of these levels. Their consequences on local autonomy as well as implementation draw-backs are dis-cussed. Second, various multi-database languages are classified into these categories. In addition to our own language COOL*, other proposals are analyzed, including SQL*Net, Multibase, Superviews, VODAK, Pegasus, and 0*SQL.
Actions (login required)