Hallerbach, Alena and Bauer, Thomas and Reichert, Manfred (2009) Issues in Modeling Process Variants with Provop. In: 4th International Workshop on Business Process Design (BPD'08), Workshop held in conjunction with BPM'08 conference., September 2008, Milan, Italy.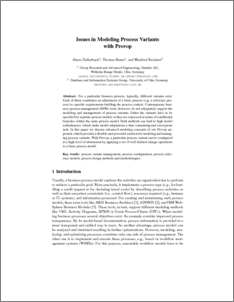 Preview
PDF

- Requires a PDF viewer such as GSview, Xpdf or Adobe Acrobat Reader
Download (1MB)
Abstract
For a particular business process, typically, different variants exist. Each of them constitutes an adjustment of a basic process (e.g. a reference process) to specific requirements building the process context. Contemporary business process management (BPM) tools, however, do not adequately support the modeling and management of process variants. Either the variants have to be specified by separate process models or they are expressed in terms of conditional branches within the same process model. Both methods can lead to high model redundancies, which make model adaptations a time consuming and error-prone task. In this paper we discuss advanced modeling concepts of our Provop approach, which provides a flexible and powerful solution for modeling and managing process variants. With Provop, a particular process variant can be configured at a high level of abstraction by applying a set of well-defined change operations to a basic process model.
Actions (login required)