Lohrmann, Matthias and Reichert, Manfred (2010) Basic Considerations on Business Process Quality. Technical Report. University of Ulm, Ulm.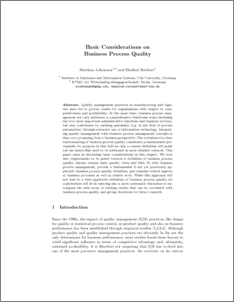 Preview
PDF

- Requires a PDF viewer such as GSview, Xpdf or Adobe Acrobat Reader
Download (479kB)
Abstract
Quality management practices in manufacturing and logistics have led to proven results for organisations with respect to competitiveness and protability. At the same time, business process management not only addresses a comprehensive functional scope including the ever more important administrative functions and business services, but also contributes to realising potentials (e.g. in the field of process automation) through extensive use of information technology. Integrating quality management with business process management concepts is thus very promising from a business perspective. The evolution of a clear understanding of business process quality constitutes a fundamental prerequisite for progress in this field as only a concise definition will point out the issues that need to be addressed in more detailed research. This report aims at discussing basic considerations in this respect. We look
into requirements to be posed towards a definition of business process quality, discuss various basic quality views and their fit with business process management, provide a fundamental if not yet practically applicable
business process quality definition, and examine related aspects of business processes as well as related work. While this approach will not lead to a finally applicable definition of business process quality, its contribution will lie in entering into a more systematic discussion to encompass the wide array of existing results that can be correlated with business process quality and giving directions for future research.
Actions (login required)