Hipp, Markus and Mutschler, Bela and Reichert, Manfred (2011) Navigating in Process Model Collections: A new Approach Inspired by Google Earth. In: Proc. BPM'11 Workshops, 1st Int. Workshop on Process Model Collections (PMC 2011), August 2011, Clermont-Ferrand, France.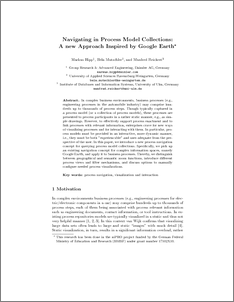 Preview
PDF

- Requires a PDF viewer such as GSview, Xpdf or Adobe Acrobat Reader
Download (1MB)
Abstract
In complex business environments, business processes (e.g., engineering processes in the automobile industry) may comprise hundreds up to thousands of process steps. Though typically captured in a process model (or a collection of process models), these processes are presented to process participants in a rather static manner, e.g., as simple drawings. However, to effectively support process enactment and to link processes with relevant information,enterprises crave for new ways of visualizing processes and for interacting with them. In particular, process models must be provided in an interactive, more dynamic manner, i.e., they must be both "experiencable" and user-adequate from the perspective of the user. In this paper, we introduce a new process navigation concept for querying process model collections. Specically, we pick up an existing navigation concept for complex information spaces, namely Google Earth, and apply it to business processes. Thereby, we distinguish between geographical and semantic zoom functions, introduce different process views and filter mechanisms, and discuss options to manually configure needed process visualizations.
Actions (login required)