Ly, Linh Thao and Rinderle-Ma, Stefanie and Knuplesch, David and Dadam, Peter (2011) Monitoring Business Process Compliance Using Compliance Rule Graphs. In: 19th International Conference on Cooperative Information Systems (CoopIS 2011) , Oct 19 - 21, 2011, Crete, Greece.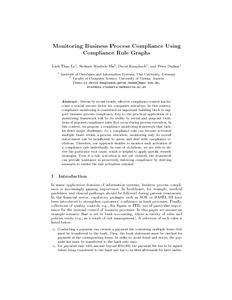 Preview
PDF

- Requires a PDF viewer such as GSview, Xpdf or Adobe Acrobat Reader
Download (539kB) | Preview
Abstract
Driven by recent trends, effective compliance control has become a crucial success factor for companies nowadays. In this context, compliance monitoring is considered an important building block to support business process compliance. Key to the practical application of a monitoring framework will be its ability to reveal and pinpoint violations of imposed compliance rules that occur during process execution. In this context, we propose a compliance monitoring framework that tackles three major challenges. As a compliance rule can become activated multiple times within a process execution,
monitoring only its overall enforcement can be insufficient to assess and deal with compliance violations. Therefore, our approach enables to monitor each activation of a compliance rule individually. In case of violations,
we are able to derive the particular root cause, which is helpful to apply specific remedy strategies. Even if a rule activation is not yet violated, the framework can provide assistance in proactively enforcing compliance by deriving measures to render the rule activation satisfied.
Actions (login required)