Li, Chen and Reichert, Manfred and Wombacher, Andreas (2008) Mining Process Variants: Goals and Issues (Short Paper). In: IEEE 5th Int'l Conference on Services Computing (SCC 2008) ; Work-in-Progress Track, July 2008, Honolulu, Hawaii, USA.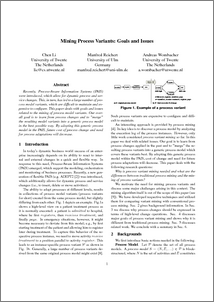 Preview
PDF

- Requires a PDF viewer such as GSview, Xpdf or Adobe Acrobat Reader
Download (259kB)
Abstract
Recently, Process-Aware Information Systems (PAIS) were introduced, which allow for dynamic process and service changes. This, in turn, has led to a large number of process
model variants, which are difficult to maintain and expensive
to configure. This paper deals with goals and issues related to the mining of process model variants. Our overall goal is to learn from process changes and to "merge" the resulting model variants into a generic process model in the best possible way. By adopting this generic process model in the PAIS, future cost of process change and need for process adaptations will decrease.
Actions (login required)