Bauer, Thomas and Reichert, Manfred and Dadam, Peter (2000) Effiziente Durchführung von Prozessmigrationen in verteilten Workflow-Management-Systemen. Technical Report. Universität Ulm.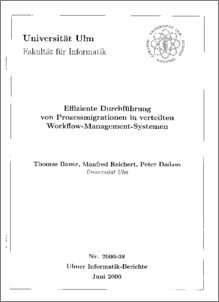 Preview
PDF

- Requires a PDF viewer such as GSview, Xpdf or Adobe Acrobat Reader
Download (367kB)
Abstract
Zur Unterstützung von unternehmensweiten und -übergreifenden Geschäftsprozessen muss ein Workflow-Management-System (WfMS) eine große Anzahl von Workflows (WF) steuern können. Dadurch resultiert eine hohe Last für die WF-Server und das zugrunde liegende Kommunikationssystem. Ein verbreiteter Ansatz zur Bewältigung der Last ist es, die WF-Instanzen verteilt durch mehrere WF-Server zu kontrollieren. Beim Wechsel der Kontrolle zwischen zwei WF-Servern werden dann Migrationen notwendig, bei denen Daten der jeweiligen
WF-Instanz vom Quell- zum Zielserver übertragen werden müssen, um dort mit der Steuerung fortfahren zu können. Deshalb belasten Migrationen das Kommunikationssystem zusätzlich. In diesem Beitrag werden Verfahren entwickelt, mit denen die bei Migrationen entstehende Kommunikationslast reduziert werden kann, so dass die Skalierbarkeit des WfMS signifikant verbessert wird. Falls Geschäftsbereiche nur über langsame Kommunikationsverbindungen angebunden sind, wird dadurch der Einsatz eines WfMS überhaupt erst ermöglicht.
Actions (login required)