Bauer, Thomas and Dadam, Peter (1997) A Distributed Execution Environment for Large-Scale Workflow Management Systems with Subnets and Server Migration. Technical Report. Universität Ulm.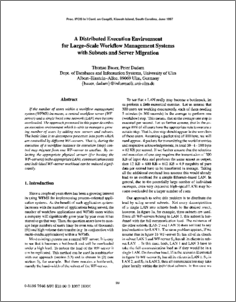 Preview
PDF

- Requires a PDF viewer such as GSview, Xpdf or Adobe Acrobat Reader
Download (1MB)
Abstract
If the number of users within a Workflow management System (WFMS) increases, a central Workflow Server (WF-server) and a Single local area network (LAN) may become overloaded. The approach presented in thispaper describes an execution environment which is able to manage a grow-ing number of users by adding new Servers and subnets. The basic idea is to decompose processes into parts which are controlled by different WF-servers. That is, during the execution of a Workflow instance its execution (step) con-trol may migrate front one WF-server to another. By se-lecting the appropriate physical Servers (for hosting the WF-servers) in the appropriate LANs, communicationcosts and individual WF-server workload can be reduced signif-icantly.
Actions (login required)