Künzle, Vera and Reichert, Manfred (2009) Integrating Users in Object-aware Process Management Systems: Issues and Challenges. In: Proceedings BPM'09 Workshops, 5th Int. Workshop on Business Process Design (BPD'09), September 2009, Ulm, Germany.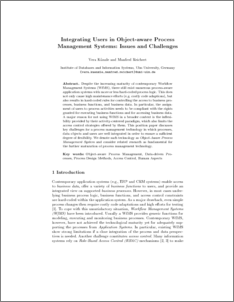 Preview
PDF

- Requires a PDF viewer such as GSview, Xpdf or Adobe Acrobat Reader
Download (230kB)
Abstract
Despite the increasing maturity of contemporary Workflow
Management Systems (WfMS), there still exist numerous process-aware application systems with more or less hard-coded process logic. This does not only cause high maintenance efforts (e.g. costly code adaptions), but also results in hard-coded rules for controlling the access to business processes, business functions, and business data. In particular, the assignment of users to process activities needs to be compliant with the rights granted for executing business functions and for accessing business data. A major reason for not using WfMS in a broader context is the inflexibility provided by their activity-centered paradigm, which also limits the access control strategies offered by them. This position paper discusses key challenges for a process management technology in which processes, data objects and users are well integrated in order to ensure a sufficient degree of flexibility. We denote such technology as Object-Aware Process Management System and consider related research as fundamental for
the further maturation of process management technology.
Actions (login required)