Bauer, Thomas and Reichert, Manfred (2004) Dynamic Change of Server Assignments in Distributed Workflow Management Systems. In: Proc. 6th Int'l Conf. Enterprise Information Systems (ICEIS'04), Porto, Portugal.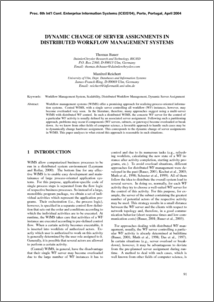 Preview
PDF

- Requires a PDF viewer such as GSview, Xpdf or Adobe Acrobat Reader
Download (546kB)
Abstract
Workow management systems (WfMS) offer a promising approach for realizing process-oriented information systems. Central WfMS, with a single server controlling all workow (WF) instances, however, may become overloaded very soon. In the literature, therefore, many approaches suggest using a multi-server WfMS with distributed WF control. In such a distributed WfMS, the concrete WF server for the control of
a particular WF activity is usually dened by an associated server assignment. Following such a partitioning approach, problems may occur if components (WF servers, subnets, or gateways) become overloaded or break down. As we know from other elds of computer science, a favorable approach to handle such cases may be to dynamically change hardware assignment. This corresponds to the dynamic change of server assignments in WfMS. This paper analyses to what extend this approach is reasonable in such situations.
Actions (login required)