Eckert, Roland and Specht, Günther (2004) Challenge of Design Data Exchange between heterogeneous Database Schema. In: Proc. 13th Conf. Product Data Technology (PDT Europe 2004), Stockholm, Sweden.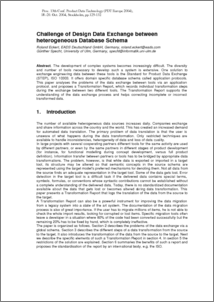 Preview
PDF

- Requires a PDF viewer such as GSview, Xpdf or Adobe Acrobat Reader
Download (54kB)
Abstract
The development of complex systems becomes increasingly difficult. The diversity and number of tools necessary to develop such a system is extensive. One solution to
exchange engineering data between these tools is the Standard for Product Data Exchange (STEP), ISO 10303. It offers domain specific database schema called application protocols. This paper analyses the problems of the data exchange between tools via an application protocol. and proposes a Transformation Report, which records individual transformation steps during the exchange between two different tools. The Transformation Report supports the
understanding of the data exchange process and helps correcting incomplete or incorrect transformed data.
Actions (login required)