Ly, Linh Thao and Göser, Kevin and Rinderle-Ma, Stefanie and Dadam, Peter (2008) Compliance of Semantic Constraints - A Requirements Analysis for Process Management Systems. In: Proc. 1st Int'l Workshop on Governance, Risk and Compliance - Applications in Information Systems (GRCIS'08), Montpellier, France.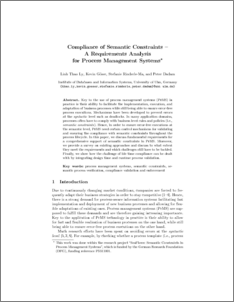 Preview
PDF

- Requires a PDF viewer such as GSview, Xpdf or Adobe Acrobat Reader
Download (417kB)
Abstract
Key to the use of process management systems (PrMS) in
practice is their ability to facilitate the implementation, execution, and adaptation of business processes while still being able to ensure error-free process executions. Mechanisms have been developed to prevent errors
at the syntactic level such as deadlocks. In many application domains, processes often have to comply with business level rules and policies (i.e., semantic constraints). Hence, in order to ensure error-free executions at the semantic level, PrMS need certain control mechanisms for validating and ensuring the compliance with semantic constraints throughout the process lifecycle. In this paper, we discuss fundamental requirements for
a comprehensive support of semantic constraints in PrMS. Moreover, we provide a survey on existing approaches and discuss to what extent they meet the requirements and which challenges still have to be tackled.
Finally, we show how the challenge of life time compliance can be dealt with by integrating design time and runtime process validation.
Actions (login required)