Westermann, Utz and Klas, Wolfgang (1999) Architecture of a DataBlade Module for the Integrated Management of Multimedia Assets. Technical Report. Universität Ulm.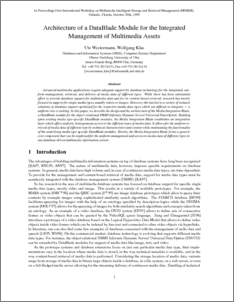 Preview
PDF

- Requires a PDF viewer such as GSview, Xpdf or Adobe Acrobat Reader
Download (114kB)
Abstract
Advanced multimedia applications require adequate support by database technology for the integrated, uniform management, retrieval, and delivery of media data of different types. While there has been substantial effort to provide database support for multimedia data and for its content-based retrieval, research has mostly focused on support for single media types, usually videos or images. However, this has led to a variety of isolated solutions of database support optimized for the respective media data types which are difficult to integrate — a uniform view is lacking. In this paper, we describe the design and the architecture of the Media Integration Blade, a DataBlade module for the object-relational DBMS Informix Dynamic Server/ Universal Data Option. Building upon existing media type-specific DataBlade modules, the Media Integration Blade establishes an integration layer which offers uniform, homogeneous access to the different types of media data. It allows for the uniform retrieval of media data of different type by technical characteristics and content while maintaining the functionality of the underlying media type-specific DataBlade modules. Hereby, the Media Integration Blade forms a generic core component that can be employed for the uniform management and access to media data of different types in any database-driven multimedia information system.
Actions (login required)